The aim of my major project was to transcribe the short story 'A sound of thunder' by author Ray Bradbury.
In terms of production I want to create 3 distinctly different immersive environments focusing on attaining a realistic look based on the description in the narrative as well as my own artist interpretation and research.
The year is 2055, a company called Time Safari, Inc who specialises in time travel to the past to enables paying customers to hunt or more precisely kill extinct animal. The company operates on the fringes of the law and due to the fact that killing an animal that has a future could ultimately impact modern reality, the company has to do background research and track animals and find those that will die of natural causes and thus enabling the paying customers to kill those specific animals minutes before they are destined to die naturally.
The protagonist is on such paying customer and goes into the year 60,000,000BC to shoot a Tyrannosaurus Rex. However once there due to the size scale and sheer ferocity of the tyrannosaurus he cowers causing the guides and the other hunters to nearly lose their lives.
There is a pathway set up hovering 6 inches above the ground for which the 'hunters can walk on and not interact or contaminate the past , however the cowering protagonist is ordered back to the time machine but in fear strays off pathway before returning to the time machine.
After the Tyrannosaurus in slain the guides return to the time machine and consider whether to leave the protagonist in this time period or kill him outright. They send him to dig the bullets from the tyrannosaurus' as punishment as they can leave no trace of the future in the past.
Upon returning to the future the protagonist steps out of the time machine and they find that the world is not as they left it. The protagonist pulls a clump of mud from his boots to find a dead butterfly in the mud he had stepped on in the past.
After dropping to his knees in sadness and desperation wanting to go back and change what he had done and closes his eyes.
One of the guides shoots him.
That's a quick breakdown of the story.
I considered having the first scene fairly plain as if the hunting party had just left with say gun racks missing guns etc to show that someone has been here and a window to show a brief vision of the world outside. I also decided at this early point I wanted to show the time machine as it fires up and the hunters being thrust into the past.
Next I planned to show the prehistoric jungle and maybe the carcass of the dead tyrannosaurus and a footprint in the mud showing someone had been here, like the audience has just missedthe events that unfold in the story and are presented with the aftermath of it.
Like a typical three act story structure, I decided to create my work in three parts, introduction, in this case the room with the time machine as an establishing scene, then the event or main act, where we see the prehistoric jungle, and the conclusion or consequences of the action which would be the final scene.
I planned to show the last scene the same as the first scene, but reinvented into the altered reality with time machine humming as if it was warming down and a maybe a path of mud footprints leading to a dead golden butterfly laying on the floor, and off to one side of the butterfly a pool of blood. Then in final part of that scene I planned to have the camera travel towards the window and show the view out to the altered reality outside.
I began by researching into heavy machiney to gain some insight into what a time machine might look like as well as looking at time machines from various films and how they have been portrayed in the past. I also looked into how time travel could work if the technology was available.
My findings led me to such films as 'Back to the future' and 'The time machine' but my interest led me down the route of wormholes in space and time, looking at films such as 'Contact' and 'Stargate' which seemed far more plausible as a mode of interstellar or time travel to me. From there I looked at engine propulsion, turbines, nuclear reactors, and heavy other such propulsion systems which could be used to propel a time machine through a worm hole.
I then started to look into what a jungle in the year 60,000,000BC would look like.
It would have looked like a smouldering pile of ash.
As the meteor that supposedly wiped out the dinosaurs crashed into earth around the year 65,000,00BC for 5,000,000 years before Time Safari, Inc killed their T-Rex.
I thought about the possibility of sending them back to an ash wasteland but decided against it in the end as the idea of sinking my teeth into nature so to speak was rather more appealing.
I looked into what time of plant life would have been about at the end of the cretaceous period for a base for my jungle and discovered that flowering plants were in full swing as mammals were beginning to take for and in order for the plant life to reproduce they evolved and began to bare sweet flowers and fruits which appealed to the up and coming mammal who ate them and then transported the plants seeds by means of excretion.
Next on my research gathering list came my altered reality, and I in the narrative it tell that a military dictatorship had replaced society in the altered reality. I started looking into worlds ruled by dictators such as the Nazi regime and the impact it had on the world which led me into looking at creating a world like a prison with people being constantly being watched. I then looked at modernist buildings for inspiration such as the 'Pruitt-Igoe' which is a demonstration that the modernist way of living is something many believed was a failure. I also looked into industry and factories with the idea of taking the world back to the industrial age of poverty with a smog filled world comprised of factories with a disregard for nature.
At this point I began drawing out some concept art to support my scenes
As well as watching films such as 'THX-1138' and '1984' which gave my altered reality what it needed and I ended up settling on creating Time Square in New York due to it being an iconic place which would make any changed to this altered reality more apparent to the audience.
Then came the finalised concepts
Time Machine
Cretaceous Jungle
Altered Reality
I began modelling the Time machine first as logically it was at the start so I began at the beginning, next came the jungle again logically followed by my altered reality Time Square.
The time machine scene was coming along nicely and I nearly finished the modelled the time machine before either of the other 2 despite rotating between the 3 scenes to try and give me some variety while modelling.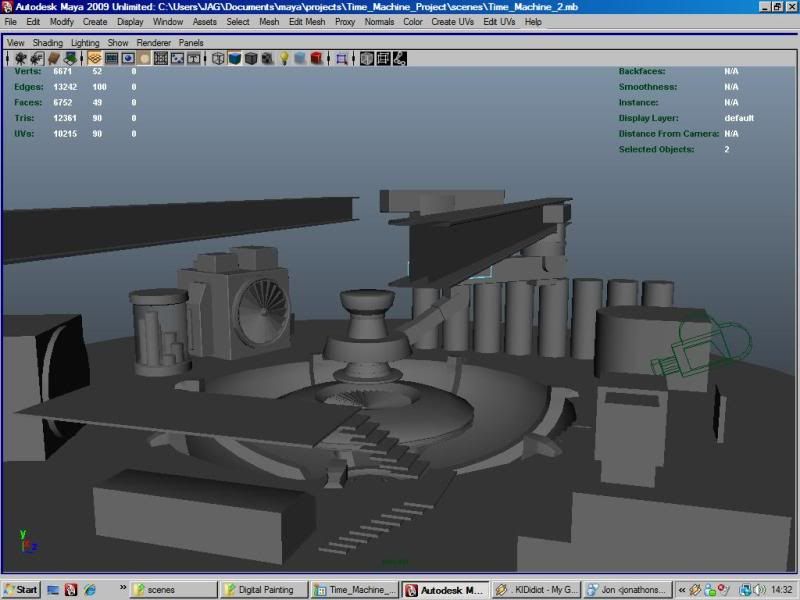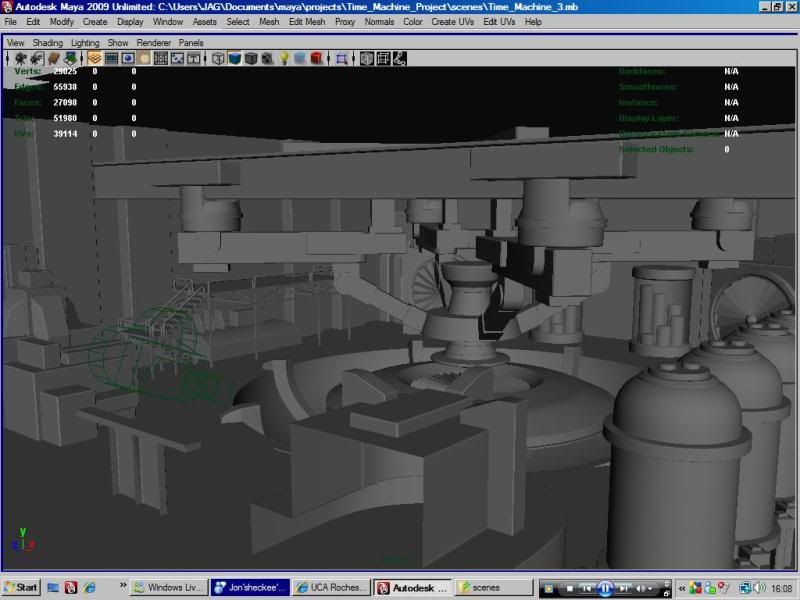 Time square began to come to life as I was modelling from an image plane to try and arrange the buildings in the correct position as well as using an aerial photo from Google earth to get the layout on the ground as close as I could to the real thing. As I added more buildings to the scene it got far more interesting and modelling the buildings was quite tricky but I found that in Google sketch up others had modelled basic mock ups of the building which were displayed in Google earth. I used this to my advantage and they aided me in my quest for time square is it is somewhat hard trying to get accurate models from still pictures of random angles of the buildings. However I then found that in Google earth there are 360 panoramas running all the way down the streets so the modelling came on somewhat swiftly from there.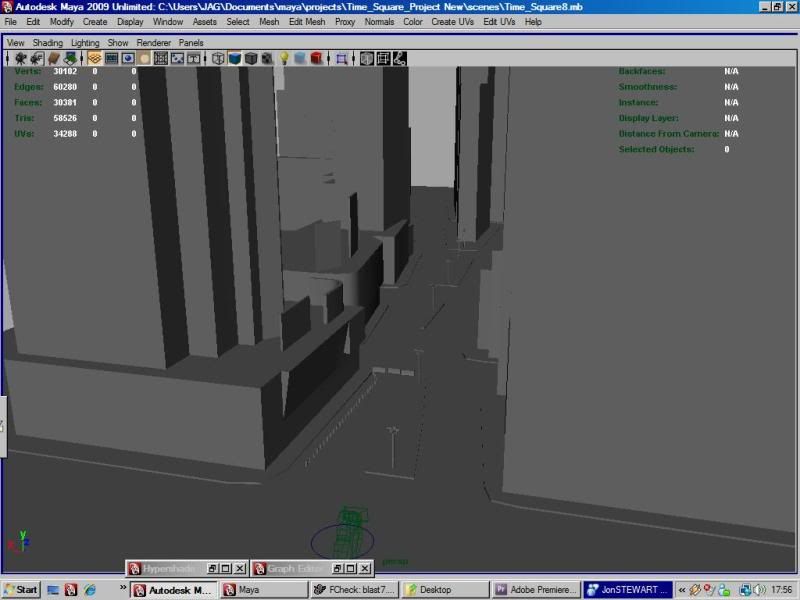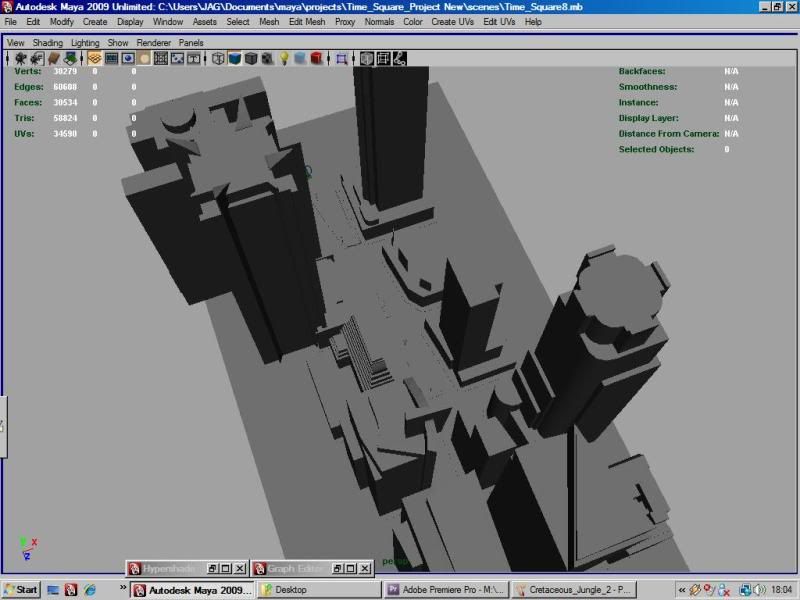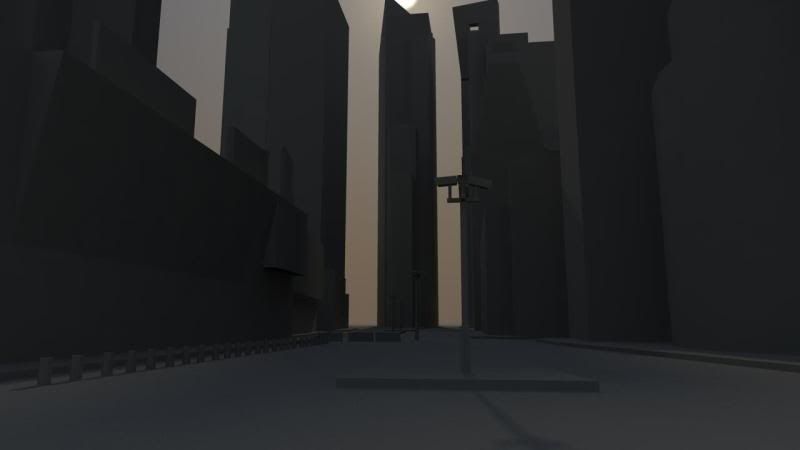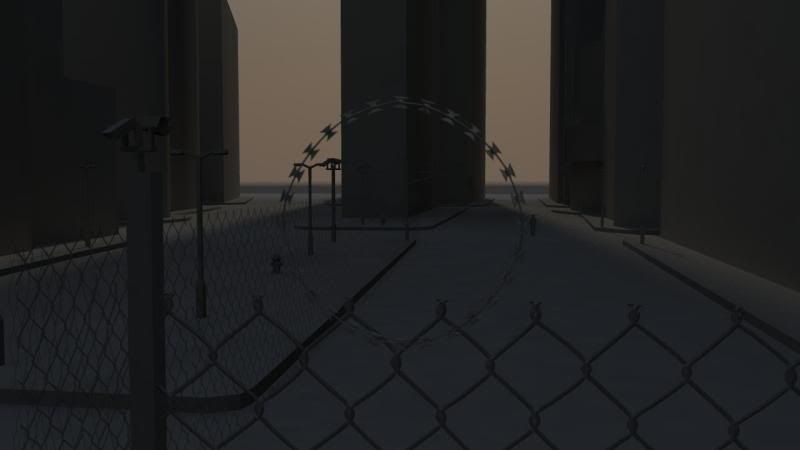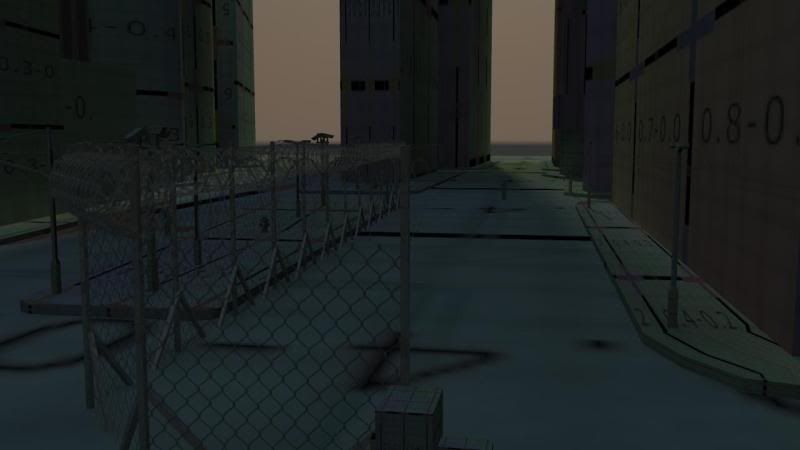 My jungle scene was still trailing behind so from there I went at it with full force, I also went through and altered all the cameras in all my scenes giving them more subtle animation yet still trying to show off my scenes.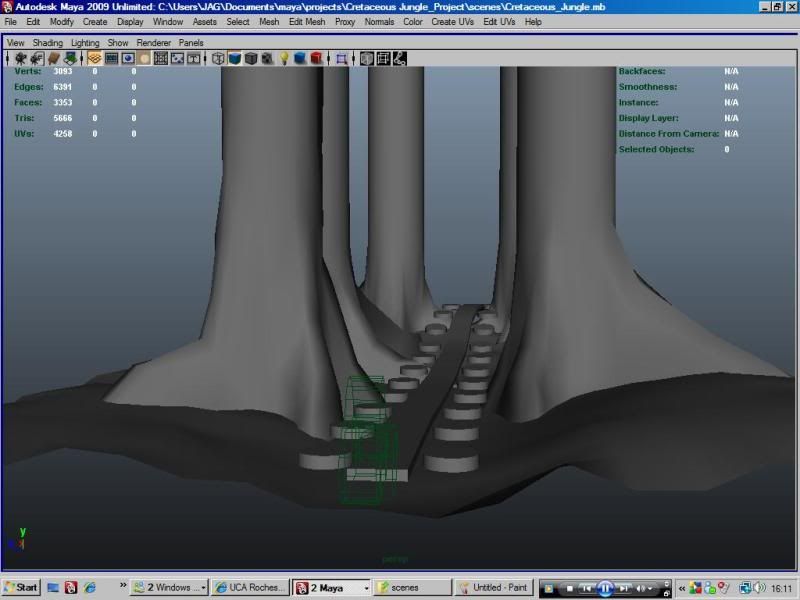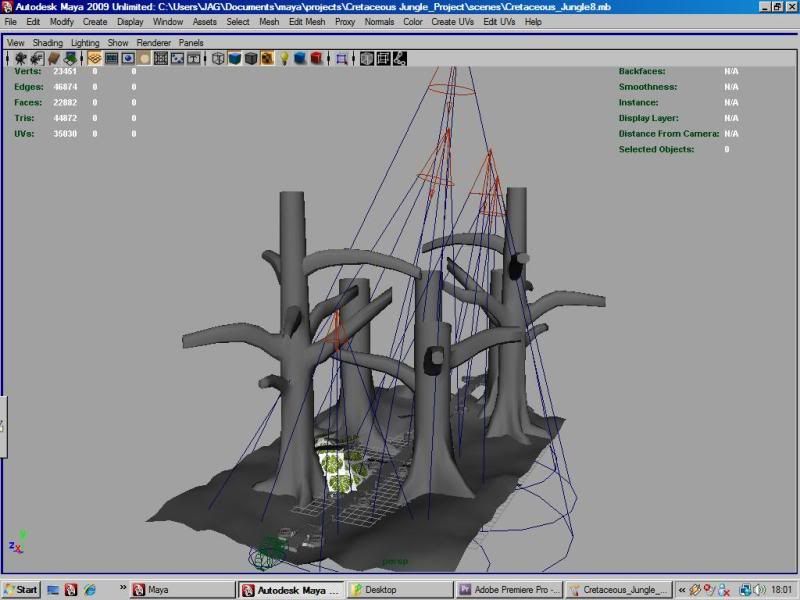 I began setting up the lighting and texturing the image plane leaves. I set the lighting up using shafts of light to replicate shafts of light shinning down between the trees with fog making their trails more evident. However in the end I altered the lighting to a more subtle portal light projecting physical sun into the scene which was now boxed in. Then I used volume fog and spotlights to give me a similar effect to what was happening before but this time round looking far more realistic.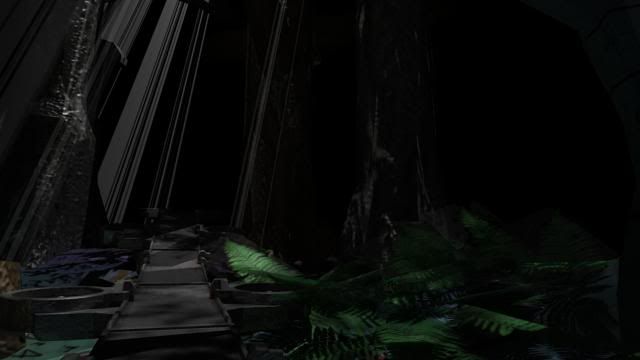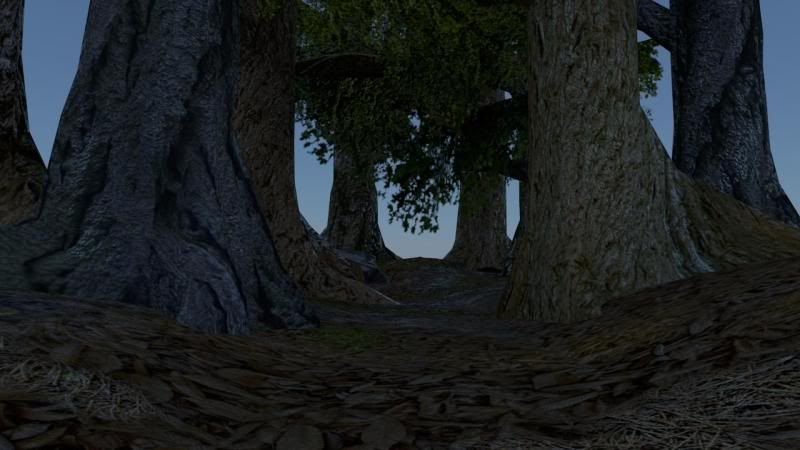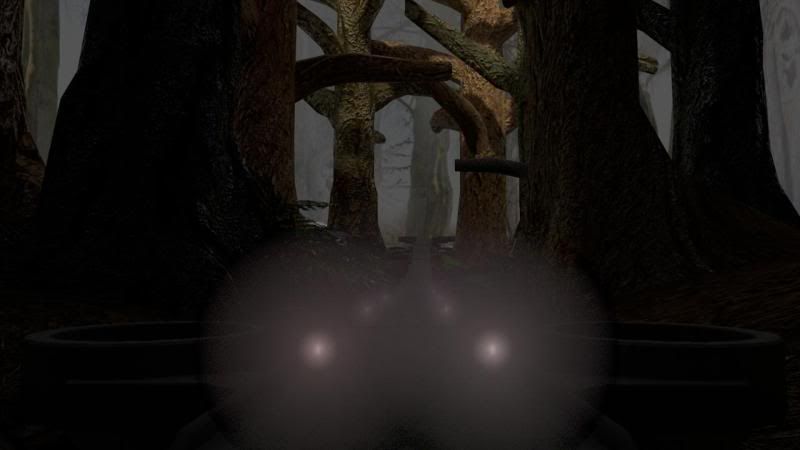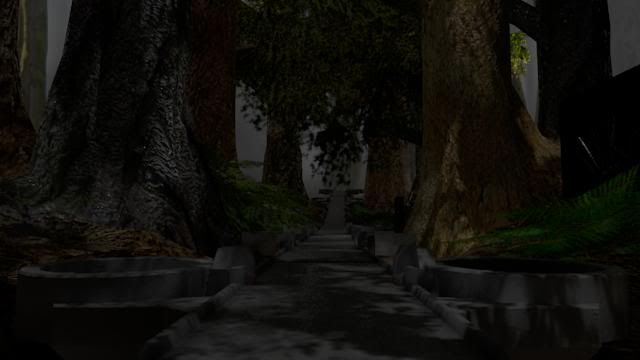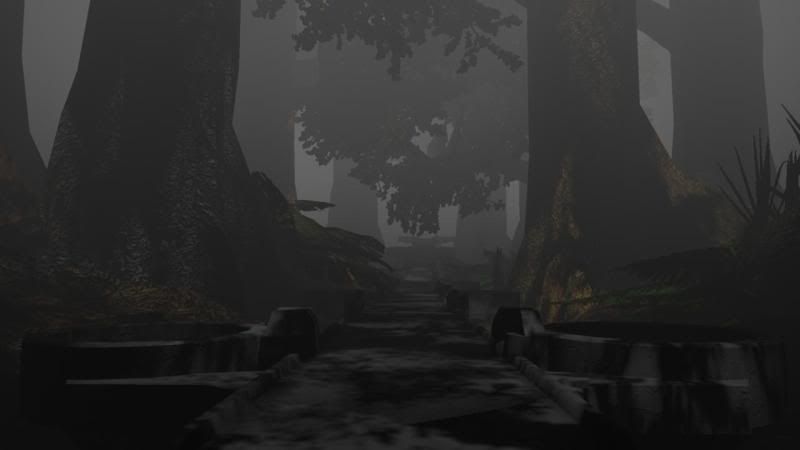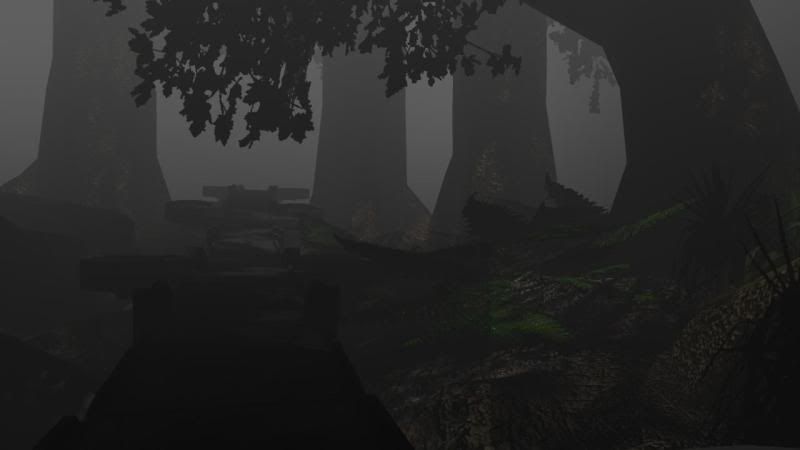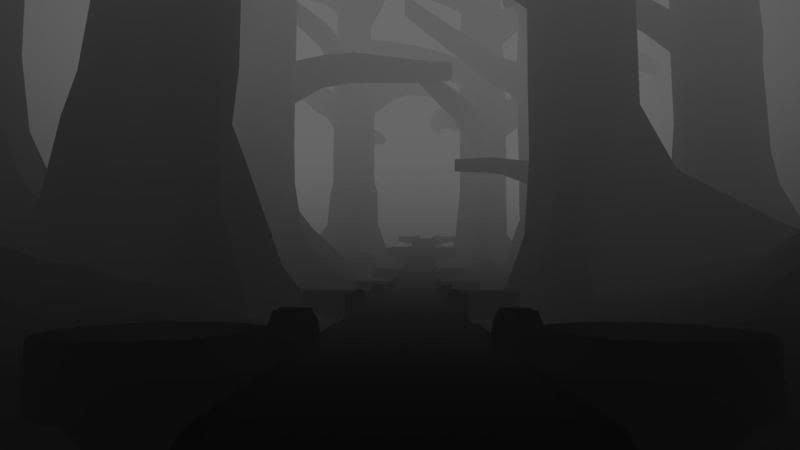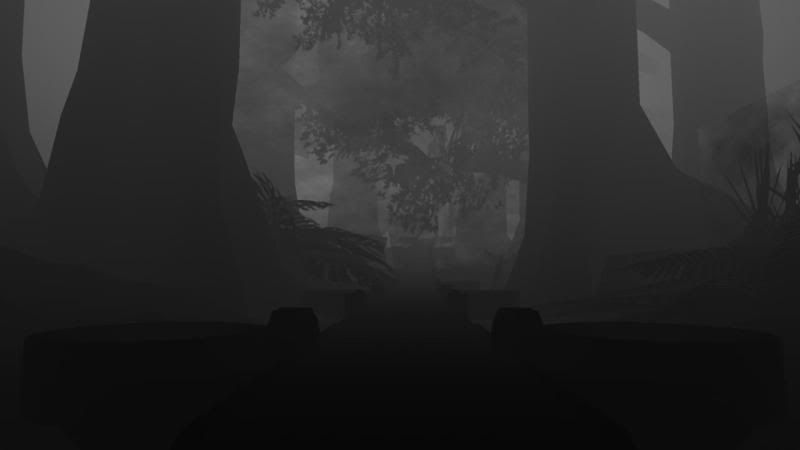 At this point I went back to the time machine and finalised the modelling added dynamics to give the time machine a nice transition as it disappeared off through time, and then textured the whole scene. Dynamics wise I set up particles to emit from aboe and below the time machine as well as from the time machines surface to populate the area around the time machine. I then added a vortex and turbulence to give the particles a whirling effect as if they were spinning with the time machine. With this done I set my time machine scene up to render, which went far from well. the render time shot up on the renders from 4 minutes to more than double that so I presumed texture size was the issue and began stripping down texture size and trying to optimize the scene to render quickly.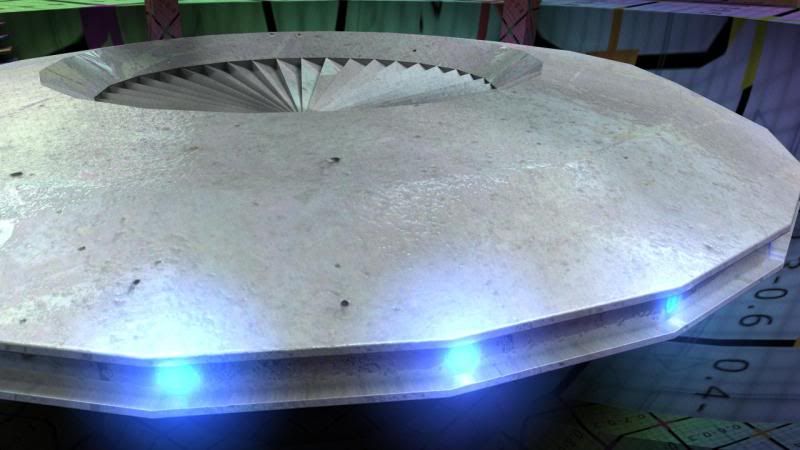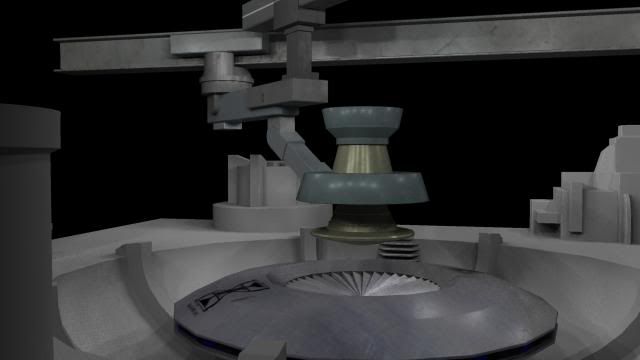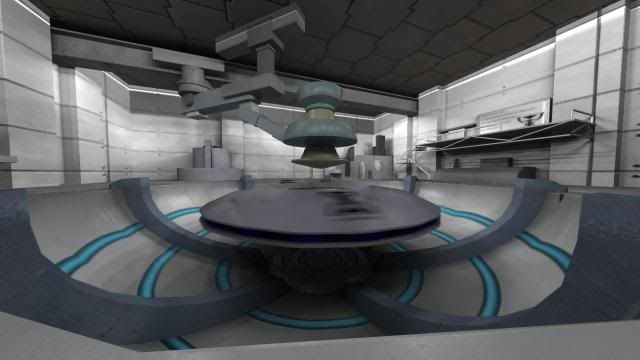 However the shadows came out terribly with my lighting and after much confusion the problem turned out to be with my large number of area lights lighting the scene. They were then replaced with point lights which seemed to speed up the render and give nice results. So I set the scene to render and got on with texturing the jungle to enable me to start that rendering as soon as possible as well, which would then just leave me with time square to finalise modelling wise and texture.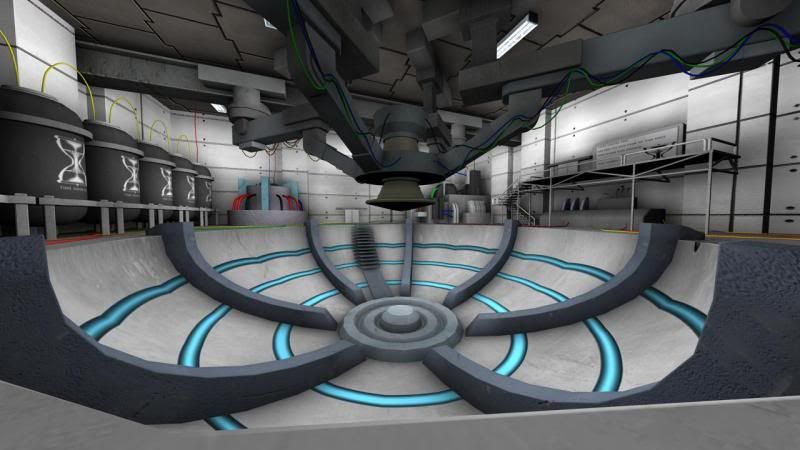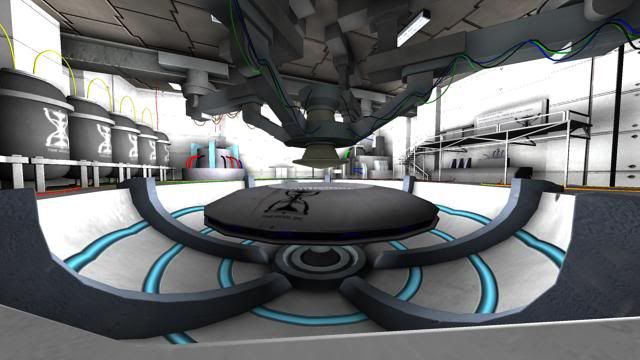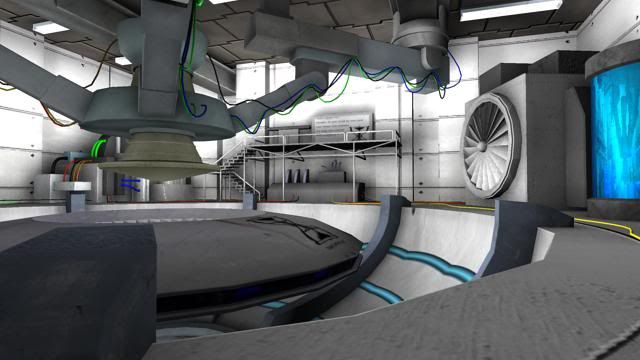 Upon returning to collect my time machine renders I was stuck by still large numbers of frames to render despite having an entire weekend to render. This time the problem turned out to be motion blur which I'd turned on to blur the fans and the time machine as they spun. So this was stripped off and I added the fans and time machine onto a separate render layer to composite a motion blur on instead, as well as an ambient occlusion and my particle pass which I had already rendered out.
Next up I set the jungle rendering, with an ambient occlusion pass as well as the beauty pass, this time going away to finalise time square.
If I'm honest I put time square off a bit as it was the largest of my scenes but when it came to texturing it I took my time as I had a fair amount of time and I thought with the amount of time I've got left I can put more detail into this scene, so I did.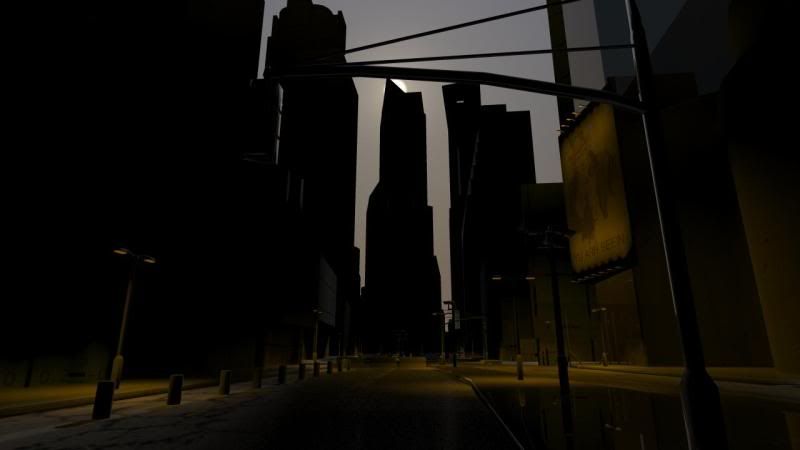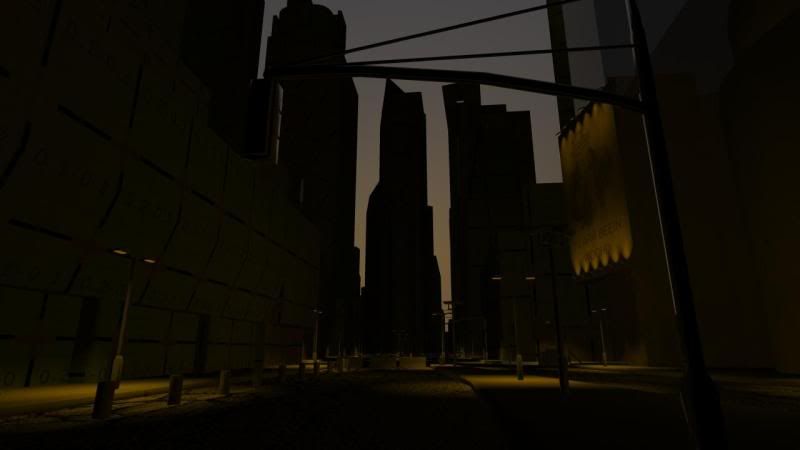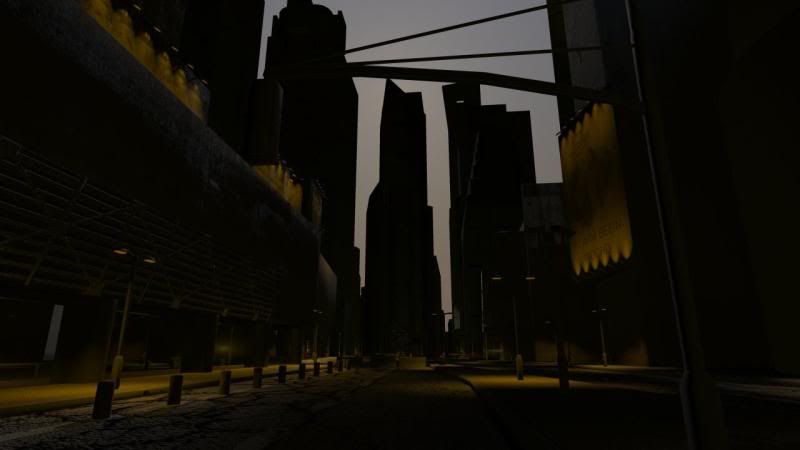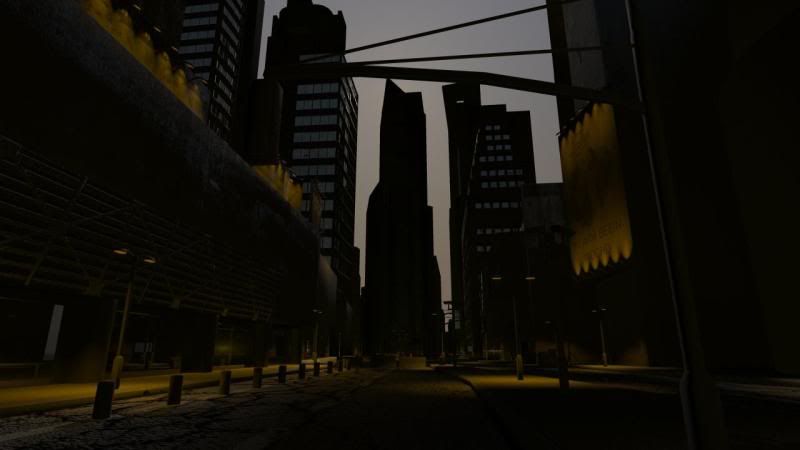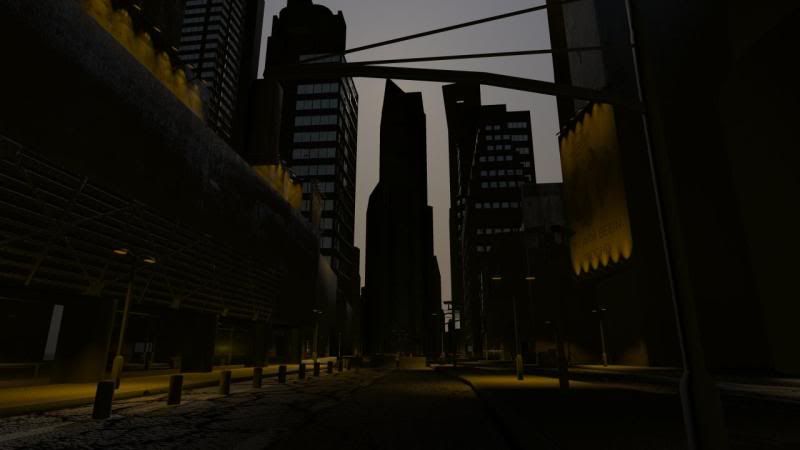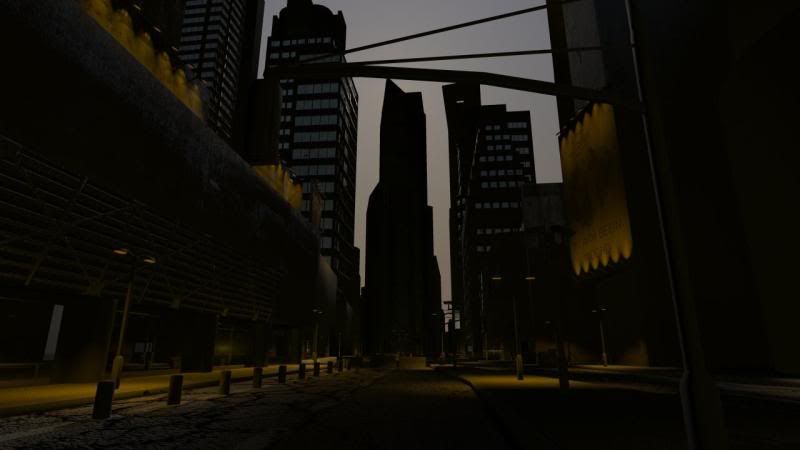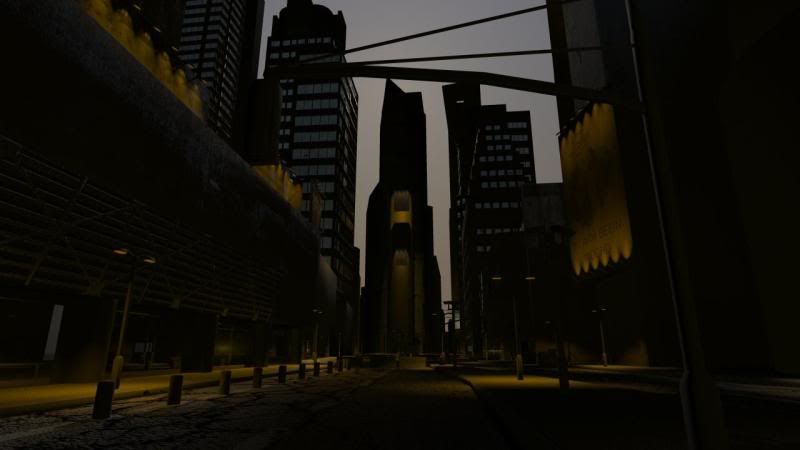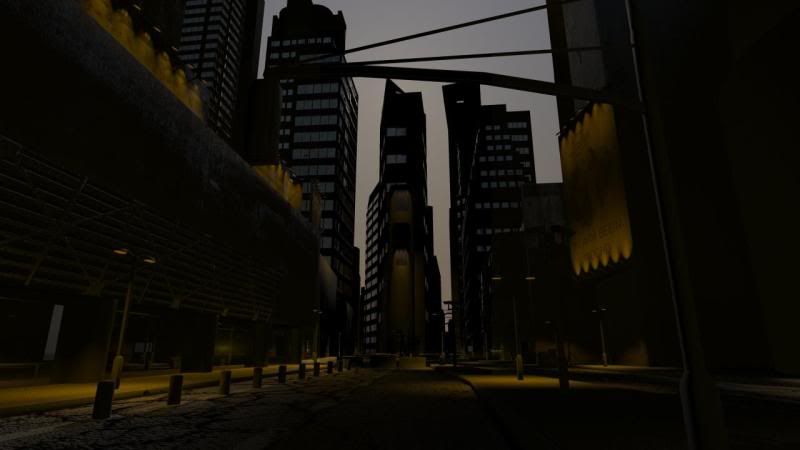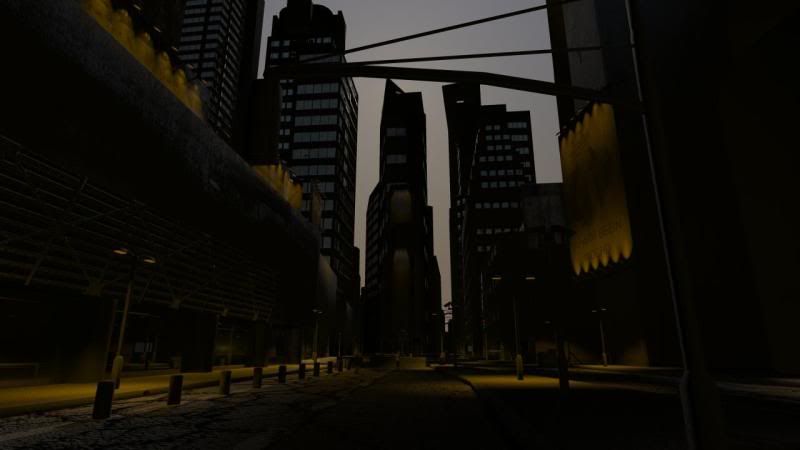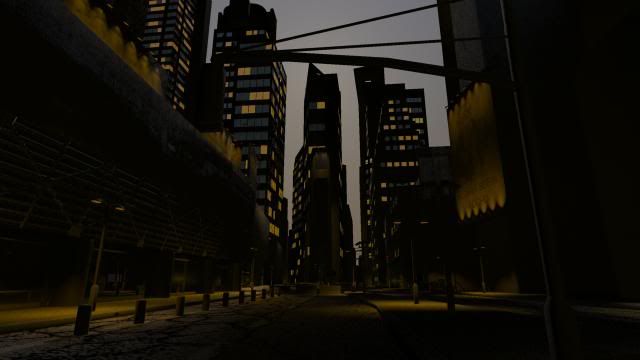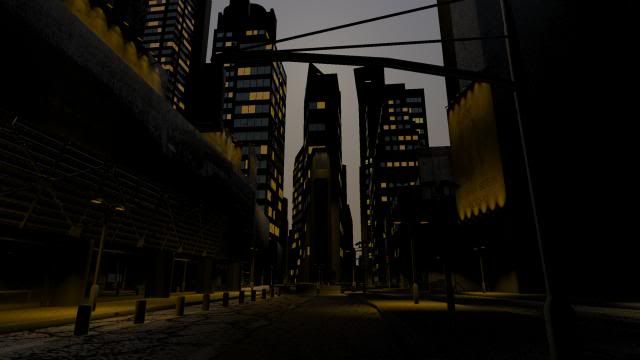 Time square went from being the one that set in the corner getting ignored a bit to the scene that took centre stage. While I was texturing the buildings I noticed the potential for reflections to make my scene far more rich as the right side of the scene reflected onto the left which made me go through and painstakingly cut out windows in order to get some reflections bouncing about.
The jungle scene rendered out nicely and I began doing passes for such things as the leave going all on one layer, then another for my t-rex, my butterfly, and another for the fog followed up by a pass for the lights on the path and a final one for the background.
I ended up having to rerender the background and fog due to me adding a black hole shader over the leaves which then lost their transparency and appeared as big black planes all over the place.
Next I set up time square rendering again adding passes in for the light glows and window glow in the background. However yet more problems occured.
Where Time Square had been left to one side I hadn't set the gamma correction which meant the whole scene needed rerendering. My tutor also said it would be a better idea to create the glow in after effect on the lights and windows but due to my limited knowledge of after effects at the time I didn't know that. So they got rerendered as well.
At this point I started my compositing everything together so I could see how everything was syncing up which then let to me discovering my particles had no geometry mask or alpha channel on them, so I went away and rerendered them at home although I'd recently upgraded my PC to 64bit Windows 7 so it punched out particles in hardware renderer like nothing on earth, so i just kept adding more particles and rerendering until my particle count went from around 6000 to 150000 which gave a far nicer effect.
With everything nearing completion I felt very positive about everything but got knocked back when I came to add glow to my lighting in Time Square, as my geometry with transparencies namely the razor wire and fencing had managed to evade my black hole shader, so back to rendering they went and I went on with compositing Time Square while my finished time machine was being render off by after effects on another computer, for some reason unknown to me due to my inexperience with after effects it then crashed missing 100 frames from the end of the render. However luckily the particles had stop and I was left with 2 frames in which I could cut and hold the scene on without it looking utterly terrible.
Then I encountered yet more problems, where all my leaves were on image planes I hadn't been able to see through them at the finished product until the compositing stage planes and there were harsh square edges punching holes in the canopy emphasised even more so by the fog pass which also now needed rerendering. So with fog and leaves rerendering I finalised time square in after effects and set it to render out.
After an hour of rendering with 150 frames to go it crashed. I then found out from a friend about a secret menu in after effects, why there's a secret menu in there I don't have the faintest idea but I altered the setting to hopefully sort out the render and set it going again, this time along with the jungle which had finished rendering its extra passes in maya and was composited ready to go!
Both time square and my Jungle were set to render and due to layers and other such factors time square was going to take an hour and the jungle an hour and 20 minutes. After 45 minutes time square crashed, again. So I was half expecting the jungle to the same but it kept on going and finished. I checked over the Time square scene again and discovered one of the settings was wrong where I'd made a mistake and not pressed enter or something. So I set it going again amended, and after another 45 minutes it crashed, again.
At this point I felt so disheartened but battled against the clock to try and set up a render before being kicked out of uni. I failed. My Z-Depth pass was linked to my external hard drive so when I removed it and tried to set it up from the shared area after effects wasn't having any of it. I pluged it back in and tried to transfer the files and plug them back into after effects again, but it just wasn't working and I'd ran out of time. So I left rather down that I couldn't complete the editing overnight for the hand in the following day.
Regardless I came home set up the scenes I had edited the sound to them and used a playblast of Time Square for reference with the sound effects. And now I'm just waiting to leave for uni so I can get those files edit it together and hand in a lovely polished project for the deadline!
It turned out the reason my Time Square scene kept crashing was 1 frame out of about 7500 give or take a few, namely frame 502 of my beauty pass was corrupted, which is what was throwing the after effects render out, but it's all sorted and the final edit is all done now.
It's been a bit of a struggle this project and I've never cut it so fine when it comes to dealine time but I'm pleased with the overall result and I'm please I've used my time to the maximum as oppose to giving up and saying 'That will do.'
By far my favourite and I feel the most successful scene is my Time Square scene mainly due to the texture quality in comparison to the other two which gives it a far more realistic feel. But then I also feel like the lighting glows need altering and the ones on with windows look far to fake and almost cartoon like.
The jungle scene I feel is far too dark and due to this if feels a bit void of tone and seems somewhat dingy, I feel it would been far more successful with that darkness done in a similar way to my Time Square scene through compositing.
I'm also not 100% happy with the leaves as they do seem like they're lacking a certain something to bring them to life, and as well as that the first tree on the left hand side of the scene that comes in close to the camera seems far to bump mapped and looks fake due to this in comparison to the tree opposite it across the path which have a far more realistic look to it.
The time machine scene being the first to be finished and started was always going to be the scene that performed least well, there are so many little problems with it from stretched textures to the lack of light projecting on the time machine as well as on the frame above the particle vortex, then the flickering of the light reflecting off the fans onto the floor also seems really amateur and somewhat irritating.
But over all I feel pleased with this project despite the large number of problems that arose through its birth and maturity. I look forward to sorting all the little niggley bits in future and upping this to a far more immersive piece.